The Ford F-150 is the unchallenged leader of the light truck market since 1973. The 2020 F-150 continues that tradition with a thoughtful selection of practical features.
The Four Best Features of the New 2020 Ford F-150
Even though nothing is cooler than cruising a truck, the purpose of a pickup is to get the work done. For that reason, performance, capacity, durability and safety are the subjects of this list.
2020 FordPerformance: Six Available Engines and Advanced Powertrain
Whether you need fuel-sipping economy or stump-pulling power, there's something for everybody. From the 290-horsepower 3.3-liter V6 to the special-edition twin-turbo 3.5-liter 24-valve EcoBoost with 450 horsepower, the V6 lineup is very impressive.
The incredibly versatile 5.0-liter twin-cam gasoline V8 has 400 pounds-feet of torque and can be converted to propane or CNG natural gas. There's also a 3.0-liter turbodiesel, delivering 440 pounds-feet of torque and EPA-estimated 29 mpg fuel economy.
Each engine is backed by a 10-speed transmission with three selectable power modes and optional 4-wheel-drive.
Capacity: Class-Leading Payload and Tow Ratings
For 2020, the F-150 tops its class with a 3,270-pound payload when equipped with long bed, regular cab and 5.0-liter V8. Towing capacity is also impressive, offering a 13,500-pound rating with the 375-horsepower EcoBoost V6.
Durability: Military-Grade Body, Rigid Chassis
Ford equips the F-150 with a military-grade aluminum body offering impact resistance, no rust and superior rigidity. It's mounted on an extremely rigid all-steel perimeter frame designed to last.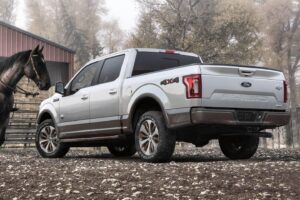 Safety: Advanced Electronics, Vision and Connectivity
The new F-150 offers sophisticated backing controls, rear camera vision, side airbags and a complete connection suite for anti-theft, remote entry and crash alert systems.
Clearly, Ford engineers and designers intend continuing F-150 market domination for decades to come.